This article, SPARTAN-F237, was written by Baracuss. Please do not edit this fiction without the writer's permission.
Daniel-F237
Biographical information
Name

Daniel

Spartan Tag

Sierra-F237

Physical description
Species

Human

Gender

Male

Height

6' 7" (7' in Armour)

Hair color

Brown

Eye color

Brown

Cybernetics

Neural Interface

Affiliation and military information
Affiliation

UNSC

Rank

Petty Officer 3rd Class

Specialty

Vehicle Expert
Mid-Range Weapons Expert

Battles

Separatist-Loyalist War

Class

Spartan IV

  [Source]
"What do ya' call a blonde with brown hair? Rose! Hahaha!"
―Daniel-F237
Description
Edit
Team Zeta's own Joker, Daniel-F237 is the team's "Wheel Man".
Strengths
Edit
Daniel's best strength is in his Driving and Piloting abilities. He can learn how to operate any vehicle twice as fast as any other Spartan IV. He is also excellent when it comes to using Mid-Range Weaponry such as his weapon-of-choice an MA2B Assault Rifle.
Weaknesses
Edit
Daniel becomes to cocky when it comes to battle, always Joking about his enemy's skills. Because of this, his fellow Spartan, Rose-F108, dislikes him and prefers not to work with him.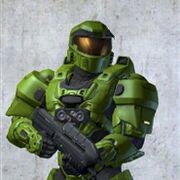 Ad blocker interference detected!
Wikia is a free-to-use site that makes money from advertising. We have a modified experience for viewers using ad blockers

Wikia is not accessible if you've made further modifications. Remove the custom ad blocker rule(s) and the page will load as expected.